Housing Market Update: Better than expected
Summary:
House prices have risen by more than expected in 2023;
The house price performance has been mixed across regions;
This reflected different demand-supply dynamics;
Slower house price growth is likely in 2024.
House price growth has been surprisingly strong
After a poor performance in 2022, dwelling prices Australia-wide have been on the rise for much of this year. As at October, prices were about 4% above their year-ago level. Reflecting affordability concerns, unit prices have risen by a little more than for standalone houses. The peak decline in prices recorded last year was about the same as it has been on three previous occasions over the preceding fifteen years.
The house price picture by region though has been mixed. Dwelling prices have risen in the five largest capital cities over the past year (although only modestly in Melbourne) and fell in the smaller ones. Regional dwelling prices have risen in Queensland, South and Western Australia and the NT. Outcomes have been mixed in the other states.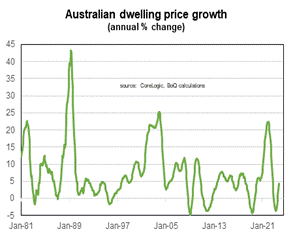 To read my full update, click here.
We live in interesting times.
Regards,
Peter Munckton - Chief Economist