Interest Rate Update: The Last Dance
Summary:
The RBA increased the cash rate by a quarter percentage point at its November meeting (taking the cash rate to 4.35%);
The rise was widely anticipated by economists (less so by financial markets);

While another rate rise is possible, I think we have hit peak cash rate for this cycle;
Based on the RBA's updated forecasts a rate cut is very much a 2025 question.
RBA decision
As widely anticipated by economists, the RBA raised the cash rate by a quarter percentage point at its November meeting. The cash rate is now at its highest level since November 2011. The explanation for the increase in interest rates was straight forward. The RBA noted that the economy is slowing due to weaker consumer spending and lower dwelling investment. And that the full impact of previous monetary tightening has yet to be felt. Although, the Q3 CPI figure was higher than anticipated and the economy this year has done a little better than expected.
Based on how the economy has developed over the past 3 months, the RBA has made some (modest) changes to its forecasts. Inflation (presumably headline) is now expected to be 3.5% at the end of next year, a little above the previous forecast. The strength of the jobs market has meant that the unemployment rate next year is projected to be a little lower.
Going into the meeting financial markets were priced a bit over 50% for a rate change. Accordingly, it would be expected that money market yields would have risen and the $A appreciated following the announcement of a rate rise. The reverse happened. I put financial market reaction to a slight (but apparently important) change to the first sentence of the last paragraph in the announcement. Instead of 'Some further tightening might be required", the new sentence starts off with "Whether further tightening of monetary policy is required".
At face value that change is suggestive that we could be at the peak of the cash rate in this cycle, and if there are any more rate hikes to come, there are unlikely to be many of them. Such a change is consistent with the evolving views of global central banks. As discussed further below, I also think it is the right call.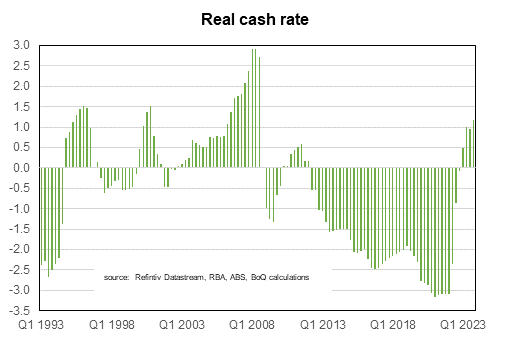 To read my full update, click here.
We live in interesting times.
Regards,
Peter Munckton - Chief Economist