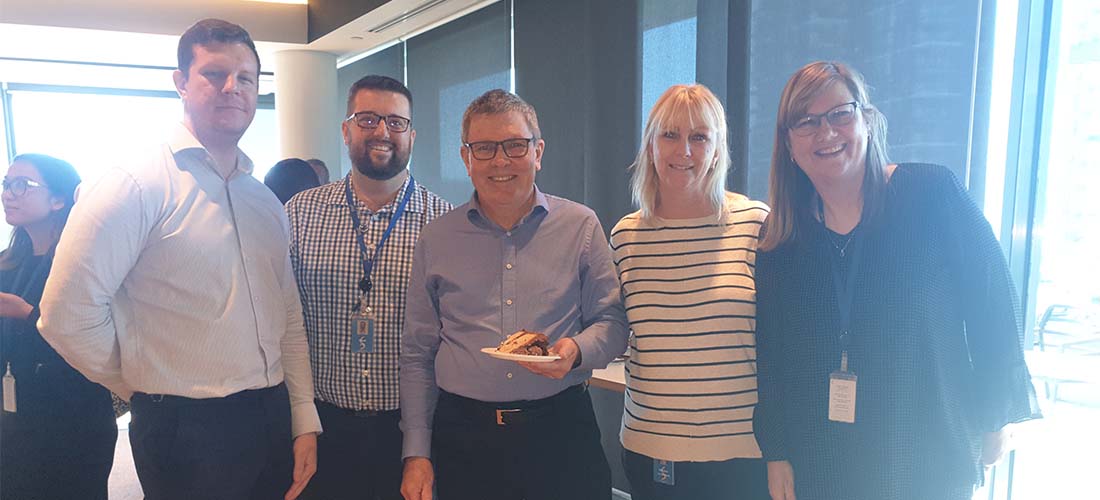 BOQ Farewells John Buck After 43 Years Of Service
After 43 years of hard work and service, today marks the final day that veteran employee, John Buck, will attend his BOQ desk, as he embarks on his next adventure in life; retirement. To mark this very special milestone, we sat down with John to chat about the changes he has seen over the past four decades, and what he's looking forward to in retirement.
What has been the biggest change you've observed over your career?
Definitely technology. When I started we had a couple of 'desktops' but now everyone has their own personal computer / laptops allowing people to work away from the office. Also, faxes are basically obsolete in today's work environment, whereas they were the most commonly used form of technology for business during a substantial part of my career.
What (if anything) do you feel has stayed the same during your time with BOQ?
'Customer focus' is a cliché in today's world; however, I honestly believe that BOQ has a great understanding of what this means in our business and we truly have our customers' interests at heart.
In what ways do you think banking has changed?
In my time, banking has moved from a highly regulated industry through to deregulation and today we are seeing the introduction of more and more guidelines by regulators, which is likely to continue post the Royal Commission. Interestingly, when banks were regulated, we all offered the same products at the same interest rates and terms. As such, the only differentiator was customer service, or better described as customer connection through service. We also had lending quota allocations provided each month by the RBA; once you had used up your quota, 'the tap would be turned off'.
Where do you see the future opportunities for BOQ?
Certainly in the customer focus area, through service and differentiation. We can't all compete on price, so it's important we really understand our unique customer attraction proposition.
Where did you work when you first joined BOQ?
I joined BOQ as supervisor of our building society subsidiary, Security Permanent Building Society, at 115 Queen Street (opposite what is today our 116 Queen Street branch).
How have you seen the Brisbane city landscape change over the years?
When I first started with BOQ, I commuted to work by train from Nundah; it took 45 minutes, no electric trains back then. There were certainly a lot less high-rises. Newstead, where BOQ Village is located today, was characterised by wool stores, warehouses and wharfs. The Gasworks were also still in place.
What does retirement hold for you?
My wife Denise and I plan to travel with the goal of seeing more of Australia. We have one grandson with another one due end of July, so spending time with these young fellas will be a big part of my life. I am also an avid recreational shooter for over 20 years and will definitely be spending more time on the rifle range.
What piece of advice would you give a young John Buck starting out his career in banking?
Take every opportunity to learn new things, improve your knowledge, apply for roles that stretch you, maintain your honesty and integrity, value relationships and enjoy the journey.
John's story is a powerful example of the opportunities that exist within BOQ for a long and exciting career. From all of us here, we thank John for his service, and wish him all the best in his retirement!