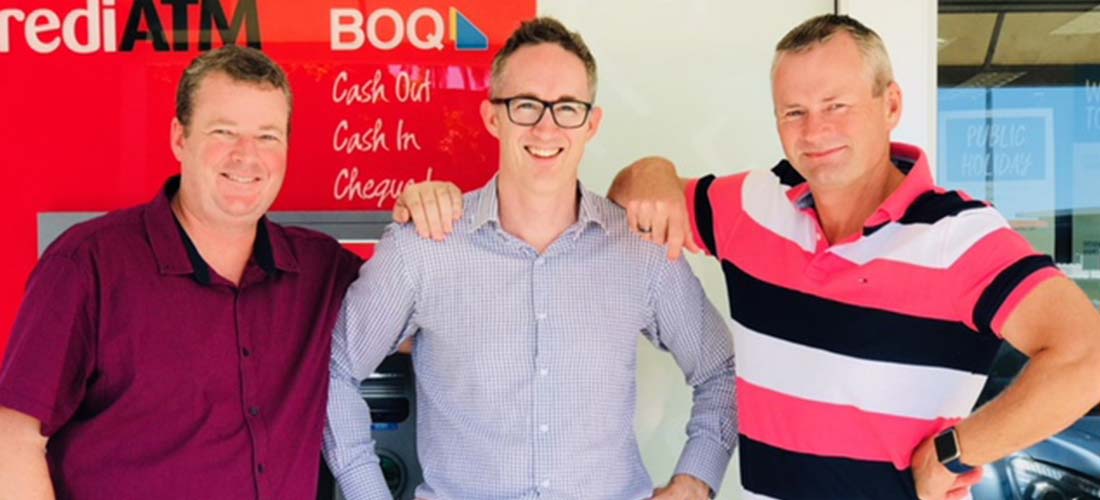 BOQ Aspley Owner Managers Celebrate 10 Years In Business
BOQ Aspley Owner Managers Phil Carrington, Craig Henderson & Matt Glennon celebrate their 10 year anniversary of the Aspley franchise today (30 April).
Phil originally commenced the franchise, with Craig & Matt joining the business progressively over recent years.
All three have banking as part of their DNA with a combined industry tenure of 73 years. Not with-standing, it is their dedicated community orientated focus and passion for their customers that has formed the foundation stone of what is a unique financial services centric business.
We spoke to Phil, Craig & Matt and asked them to share their collective insights from the last 10 years;
What have you enjoyed the most about being an Owner Manager with BOQ?
Helping people fulfil their dreams & building long term customer relationships
Watching business owners grow & develop their business
The challenge of it all, not only as a banker but as a small business owner which provides its own unique set of challenges
Have control over your outcomes & be the master of your own destiny.
Thinking about your business, what do you see as your greatest asset & why?
The people we deal with every day, our staff, our customers & our internal and external stakeholder partners.
Being able to relate to our customers, as small business owners we understand the challenges.
What is the best thing about running your own business?
The autonomy and the ability to shape something that you can be proud to say is your own
Being able to commit to our customers that we are here for the long haul
Seeing your hard work pay off. Developing and implementing the systems and processes and seeing these work successfully to move your business forward.
What are your top tips for running a successful business?
Respect your customers
Bring a positive mindset to the business every day
Surround yourself with the right people and ensure you allocate sufficient time to work on your business
Create time to 'stop to smell the roses'
Have a consistent social media presence
Goal setting as an individual but also as a team
Accountability – holding each other accountable to doing what we said we would, do when we said we would do it.
In what ways do you connect with & support your local community?
We are passionate about our local community and support the following:
Sponsorships of 3 local schools, a school chaplaincy program, and Sandgate kindergarten
Chamber of Commerce (Brisbane North, Sandgate Chapters)
Charitable organisations – prostate cancer, charity golf days, and the Volunteer Marine Rescue.
Please join in us in congratulating Phil, Craig and Matt on this milestone and we wish them every future success.
Get in touch with BOQ Aspley for all your banking needs, or click here for more information on becoming a BOQ Franchisee.