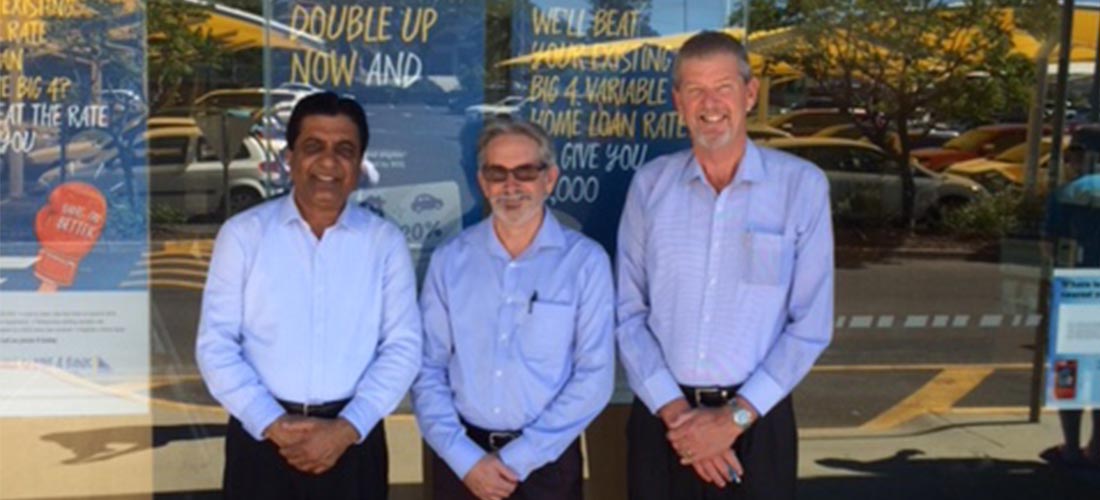 BOQ Birkdale Celebrates 15 Years In Business
BOQ Birkdale Owner Managers, Glen Findlay, Ramesh Singh and Peter Teitzel, celebrated 15 years in business on the weekend. Glen, Ramesh and Peter have a long and distinguished association with both BOQ and banking overall. From a BOQ perspective they have not only operated their Birkdale Branch Franchise for the last 15 years but have also owned and operated the Alexandra Hill Branch for 16 years in December this year.
In relation to banking, Glen and Ramesh have over 40 years' experience each and Peter, the junior of the trio, has 36 years tenure. That's a combined 116 years of banking knowledge and experience, a truly amazing achievement.
Understandably, we're keen to tap into this collective wisdom, and Glen (representing the trio) shared the following insights with us:
What have you enjoyed most about being an Owner Manager with BOQ?
The ability to guide and grow your own business without the constraints of rigid role demarcation.
In your experience, what are the top three challenges faced by someone starting a small business?
Appropriate capitalisation, staffing, and establishing your place in the market.
What do you believe are the three key benefits of being a part of a franchise?
Support, not having to take the time to establish the BIG rocks (like an IT platform), and association with like-minded businesses who are only partially competitors.
What is the best thing about running your own business?
Autonomy
What is your favourite business quote or book?
The harder you work, the luckier you get.
"Congratulations Glen, Ramesh and Peter a truly remarkable achievement, your passion for business and dedication to your customers over the long terms is unparalleled. We wish you continued success for the future." – Glen Goldspink
Learn more about BOQ Franchise opportunities.