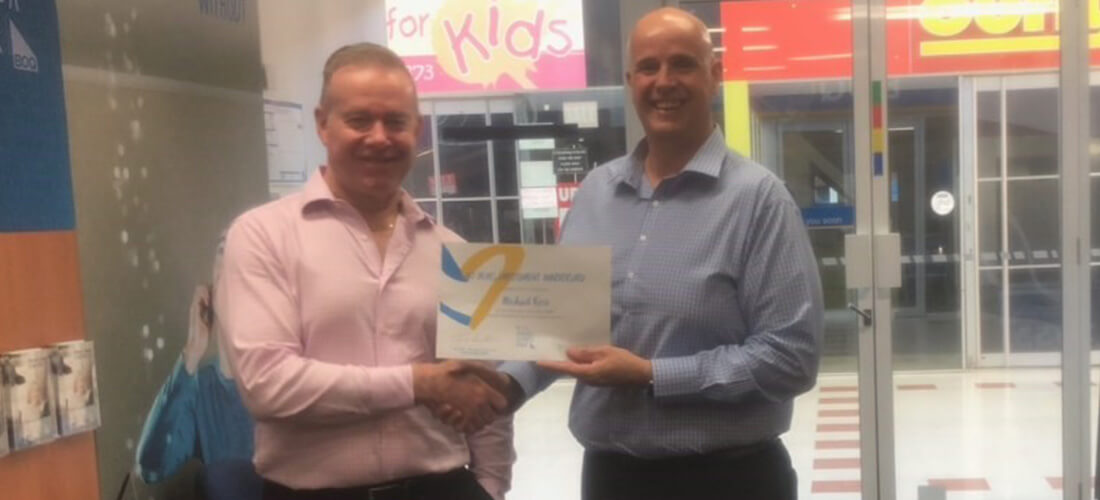 BOQ Cannon Hill Owner Manager Michael Rose Celebrates 40 Years With BOQ
Recently, BOQ Cannon Hill Owner Manager Michael Rose celebrated his 40 year anniversary with BOQ. Michael Rose started with BOQ back in 1978 as a Batch Clerk at the BOQ Chermside Branch, since then he has worked at BOQ Bundaberg, BOQ Bulimba and BOQ Lutwyche – where he was working in 2002 when he decided to become an Owner Manager.
To celebrate his amazing achievement, we chatted to Michael Rose about his time with BOQ and his experience as an Owner Manager.
1. What have you enjoyed the most about being an Owner Manager with BOQ?
I like the fact that my personal efforts and hard work can be rewarded and I still get a great thrill helping people particularly young couples buying their first home. I also love that I am now looking after the 2nd generation of some of my existing customers.
2. Thinking about your business, what do you see as your greatest asset and why?
I think the greatest asset we have are our existing customers who are such great advocates for our business. The strength of the business can be measured in the referrals that our customers provide.
3. What is the best thing about running your own business?
I think for me it's the challenge of making your branch successful. There's never a dull moment and each day throws up a new challenge. I also like talking to people and with a customer base full of fellow business owners it's great to share experiences.
4. What are your top tips for running a successful business?
Employ the right people and ensure we provide great service
Ensure you spend as much time running the business as much as working in it
Be prepared to move with change
Know your competitors and know what sets you apart from them, dare to be different.
5. What is the biggest change you've noticed about the banking and finance industry over the last 40 years?
I've seen our main competitors give up on the idea of a having a branch manager, that is, somebody with years of banking experience that has grown through varying roles prior, we will always have that edge on the big 4.
And, of course, technology! Just an example, I remember a time when if you did not have your money out of the bank by Friday afternoon then you had no further access until the banks opened again on Monday morning… it sure was a lot easier to save money.
6. What has been your career highlight/s ?
There are so many! Several top achiever conferences; a memorable Branch of the Month award while in Bundaberg where we wrote 23 home loans and established 181 new accounts! Commencing the BOQ Franchise at Bulimba; taking Lutwyche Branch from the worst performing branch in the region to the best performing branch in the region over the space of 2 years; and the many colleagues over the years who I have met and proud to still call friends. I'll throw in one last memorable moment for good measure…I parked an executive's vehicle off of Leichhardt St in Spring Hill so I could attend a settlement. I hopped out of the vehicle and it began to role downhill. Not even thinking, I threw myself in front of the vehicle to try and stop it after 15 metres of sliding I ended up wedged between 2 cars! Ouch!
Congratulations again to Michael Rose on your amazing milestone with BOQ.
Get in touch with BOQ Cannon Hill for all your banking needs, or click here for more information on becoming a BOQ Franchisee.