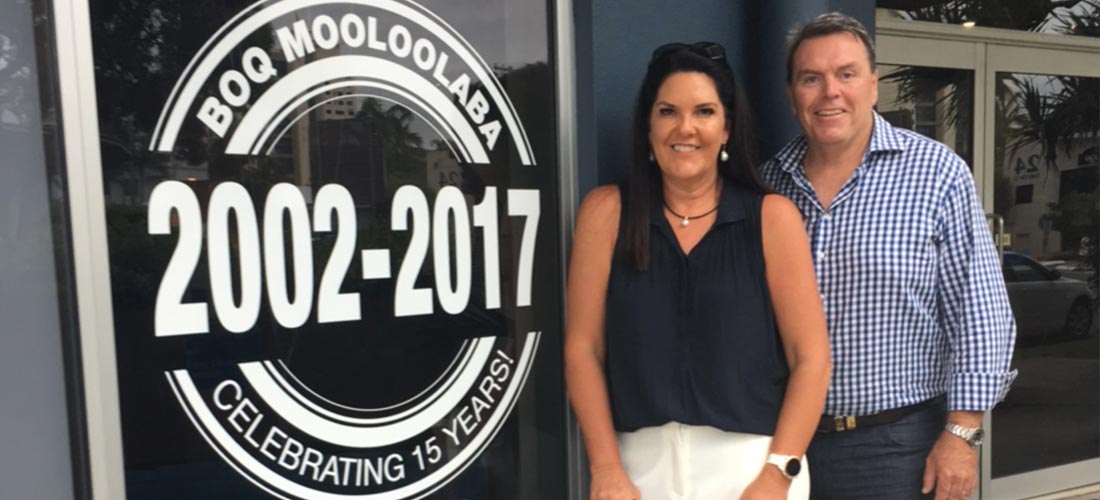 BOQ Mooloolaba Owner Manager Brenden Brial Celebrates 15 Year Anniversary
At its core, BOQ is about connecting with people; our customers, our staff, our communities. Customer service is at the heart of everything our Owner Managers do, you could say it is a part of their DNA. A great example of this Brenden Brial, his wife Carlie and their team at the BOQ Mooloolaba branch. Brenden celebrated his 15 year anniversary as an Owner Manager on the 2nd of December and recently also clocked up 30 years in banking with BOQ.
Brenden and Carlie (pictured) have been long term residents of the Sunshine Coast and they are well known for their enduring support of the community. Brenden shared with us some of his observations and insights from the last 15 years:
In what ways do you connect with and support your local community?
"Carlie and I have always been involved in community programs since the day we opened. Carlie was heavily involved in the Sunshine Coast Give Me5 4 Kids program for many years which has raised millions of dollars. We were involved in the construction of the Cancer ward at Nambour General Hospital and the House the Coast Built. With our customers from My Weekly Preview, we started the Melbourne Cup Exclusive 300 Club for 5 years which raised over $250,000 for Wishlist. We are still involved today with Wishlist as their Banking Partner.
We have also sponsored local netball, junior Rugby and the local Sunshine Coast Turf Club."
What have you enjoyed most about being an Owner Manager with BOQ?
"Being an Owner Manager gives me some flexibility to run things my way (within reason of course). I love the Sunshine Coast and being a part of the business community has been a way to meet some great people and help our customers in ways which only a business person can."
In your experience, what are the top three challenges faced by someone starting a small business?
"The endless amount of red tape and government legislation a small business has to navigate is challenging.
Cashflow management
Managing staff and building a really good team of people around you."
Thinking about your business, what do you see as your greatest asset and why?
"I would have to say that our greatest assets are our staff and our local profile. The staff are the ones who are responsible for the service we give our customers to capitalise on the profile we have built up as local business people over the last 15 years."
Who are the trusted advisors on your bench?
"Carlie and I work very closely together, I also have a group of very close friends who are also business people and they help me in many ways. We have regular "board meetings" which help immensely."
What is your favourite book / quote. Can you share why this resonates with you?
"The E Myth by Michael Gerber. The skills you need to be a great technician are not the same skills you need to be a great business person. I spent many years trying to improve my business by working harder to become a better technician. It took me a long time to work out that wasn't the best way to run a business".
What is the best thing about running your own small business?
"I would say flexibility, and the rewards of being able to truly help people."
Describe what the future looks like for you?
"I am very excited about the future of our business. By the end of Jan 2018 I will have completed what has been a very challenging recalibration phase of the business. I will have the last staff member on board which we have planned for several months. The branch will have a great team of skilled and enthusiastic staff who are focused on providing excellent customer service."
"Congratulations on your achievement to date Brenden and thank you for your insights. We wish you continued success for the future" – Glen Goldspink
Get in touch with BOQ Mooloolaba for all your banking needs, or click here for more information on becoming a BOQ Franchisee.