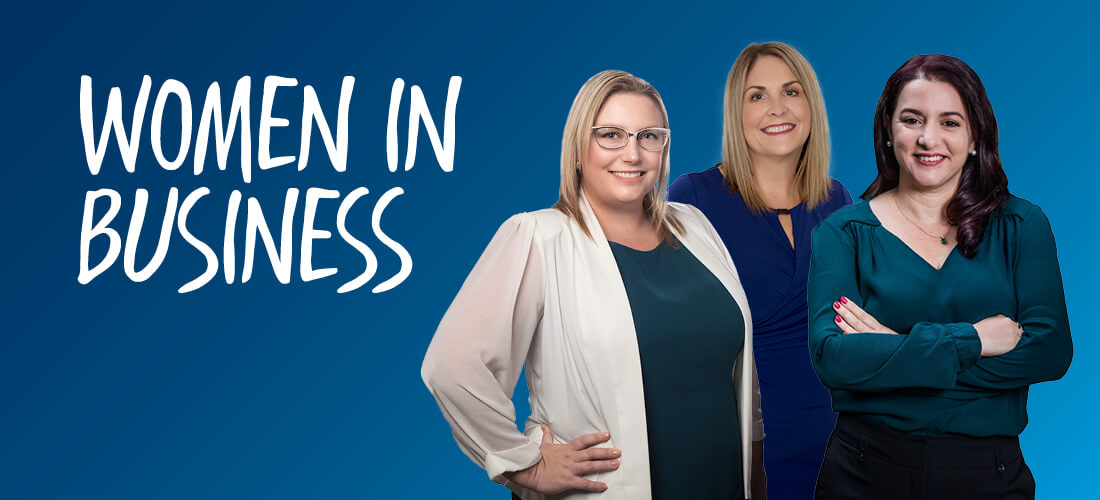 3 BOQ Owner Managers Share Their Top Tips For Women Starting Or Managing A Small Business
Our Owner Managers have a wealth of knowledge and experience when it comes to starting and managing a business in Australia. To help other women who are thinking of starting their own business in 2019, we chatted to three BOQ Owner Managers to get their top tips and advice.
Firstly, let's meet these three great BOQ Owner Managers!
Melissa Green (MG) is the Owner Manager of BOQ Mackay City. Melissa started with BOQ over 24 years ago as a Batch Clerk. After managing the Mackay City branch for 4 years as a Corporate Branch Manager, Melissa decided to become an Owner Manager in 2007. Melissa made the leap to Owner Manager because she wanted to have greater control over the service delivery to her clients.
Jellina White (JW) is the Owner Manager of BOQ Gympie. Jellina started with BOQ in April 1987 as a Batch Clerk and Teller in the Gympie branch. She then moved into being a BOQ Regional Manager, looking after franchises throughout NSW, Victoria and the ACT, and then the Sunshine Coast. Jellina decided to purchase the BOQ Gympie branch in 2009 as she decided she wanted to "create her own destiny, instead of looking after others."
Bec O'Connell (BO) is the Owner Manager of BOQ Kenmore in Brisbane. Bec joined BOQ in May 2018 to become an Owner Manager. Bec joined BOQ after she had the opportunity to reflect on her career and why she got out of bed in the morning.
"I realized that I love having a team around me working together to deliver great service and outcomes for our clients. But I was still looking to push myself, grow and develop. BOQ's Owner Manager Model just became the next step where I could continue doing what I enjoy but in a way where I could challenge myself."
1. What is the best advice you received about starting or running a business?
MG:
Be careful who you take advice from and watch out for those dream killers.
From a finance point of view, know your numbers or find someone who does!
Be very clear about your breakeven point as this helps clarify what is important when making decisions about your business.
JW:
Make sure you have a clear business plan, revisit it often and change when necessary.
Set yourself realistic goals.
Always check your cash flow forecasts.
BO:
Learn how to meditate.
You don't need to do everything today.
Put people first – Your team and your customers are your business, the rest is just numbers. Don't get me wrong there is good numbers and bad numbers but do the right thing by your people and the numbers follow.
Overlay your decisions with 'Is it in the best interests of my customer?'
2. What is one piece of advice you want to share with women who are starting or running their own business?
MG: Some businesses that fail are often waiting for perfect before they implement a new product or new process. Although planning is important, I believe in the theory of building the plane as you fly it. Good enough is just that….good enough.
JW: As a woman we have a habit of thinking we can do everything and be everything to everyone. Don't take on too much and burn yourself out. Concentrate on what you are good at and surround yourself with good loyal staff who have skills in other areas you don't. It's ok to say No.
BO: When going into business I am glad that I took the time to build my skillsets to effectively run my business before taking it on. This has made my transition into business a positive experience and I can back myself 100% under most circumstances. So my advice is to honestly self-reflect, know where your skill gaps and build enough of a knowledge base or support network so you can back yourself before taking the leap.
3. What are your top tips for running a successful business?
MG: Sleep on it before making and announcing big decisions. On that same theme, you don't need to give someone your decision straight away, it is perfectly acceptable to stay 'let me get back to you.' Often business owners or leaders think they need to be the originator of new ideas or solving a problem – however I believe it is your job to provide your team with space to improve productivity and innovate.
JW: Be true to yourself. Always keep your integrity over making a quick dollar, remember you are in for the long haul. Write a business plan and cash-flow – look at it and update it regularly. Don't think when starting a business it is a license to make money – you need to work hard, create networks and gain the trust of customers and the community.
BO: Have personal boundaries, just working for 70+ hours a week doesn't automatically make you successful. Know your energy levels – when do you work best? Are you an early bird or a night owl? Structure your work day around when you can offer the most effective and efficient outcomes for your business and know when you need to turn off.
4. What is the biggest challenge you've overcome while running your own business? How did you overcome it?
MG: The economic downturn in Mackay was definitely the biggest challenge. Appointment after appointment, day in and out of hardship enquiries was very difficult to deal with emotionally, especially when you are also weathering the negative impacts the downturn was having on my own business. I have been here so long as BOQ that most clients have been good friends so I was really with them in the trenches during those years. A positive financial solution was available for most and knowing that I was able to make a difference to my customers lives really kept me going through that tough period.
JW: Trying to do too much myself. I have had to learn to delegate. Spending time ON the business instead of IN the business. Also the work/life balance is crucial, something that I still struggle with but it is essential for your wellbeing and ultimately is the best for the business. I overcame it by ensuring that I had the right team around me to allow me to focus on the growth of the business as well as ensure the existing business is running as it should.
BO: I think it's the doubts in your head – have you done the right thing, you aren't doing enough, work harder, could I have done it better/differently etc. I am blessed to have a great support network both personally and professionally to lean on and having no hesitation at recognizing when I need to reach out and ask for help.
5. What has been your career highlight/s?
MG: There have been many, however the promotion to Branch Manager is still special as it was acknowledgement that BOQ believed in me and the belief I had in myself was warranted. Also, achieving BOQ awards in 2008, 2010, 2011 and 2012 were memorable as I was able to share that with the team and my family.
JW: There have been many career highlights which have included awards both from BOQ but also the Women's Network in Gympie which included Business Woman of the Year and Business of the Year. These are always very rewarding to receive from your peers. My career highlight personally is knowing that I have been able to run the business solely for nearly 10 years now. There have been some tough times which included vacating and packing up the branch 8 times in those 10 years due to flooding.
BO: I am living it. I get to come to work every day doing a job I enjoy, surrounded by people who make me laugh while still working hard and I am able to provide for my family. What else could I ask for?
If you want to chat to BOQ about how we can help support your businesses financially, feel free to contact Melissa, Jellina, Bec or any of our other Owner Managers throughout Australia.
If you're interested in becoming a BOQ Franchisee, please don't hesitate to get in contact with us today.