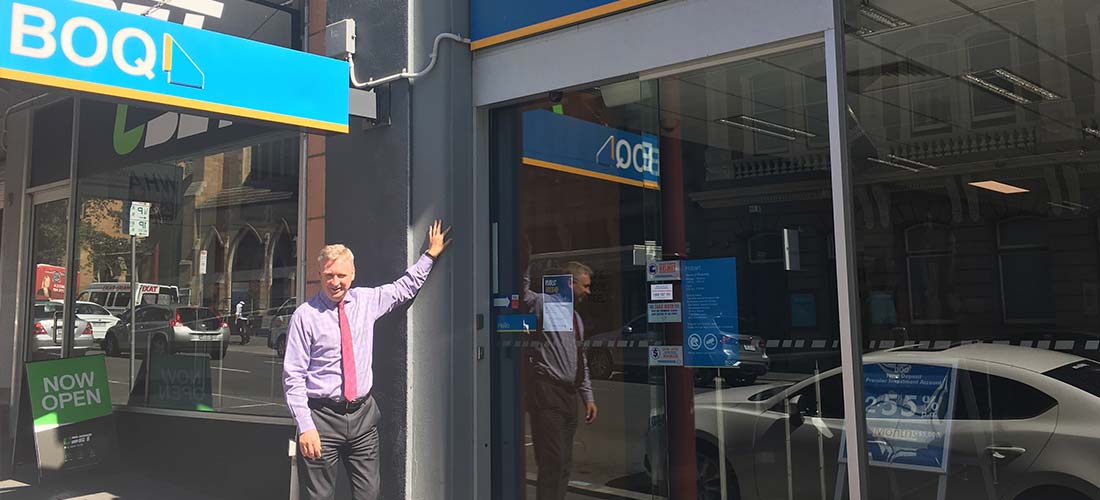 Don McLeod Celebrates 10 Years As The Owner Manager of BOQ Hobart
Don McLeod, the Owner Manager of the BOQ Hobart Branch celebrated his 10 year milestone in the business on 12th February.
Don is well known to his customers as a professional banker with a wealth of experience that he readily shares in an engaging and thoughtful manner. Don and his family relocated to Hobart in 1995 following a transfer with the NAB and quickly settled into the local business and broader community.
Don's business experience includes several years as the GM of a finance company which provided valuable insights into the strategic development of a business and provided the scope for him to apply his MBA degree learnings in a practical way.
We asked Don what attracted him to the Bank of Queensland Franchise, and he responded that "the model met his criteria of being able to apply his banking and small business skills into his own business and build a challenger branch to the big 4 banks."
Don was also kind enough to share some of his reflections from the past 10 years with us:
In what ways do you connect with and support your local community?
I have been involved in Not for Profit organisations at Board level for over 20 years.
What have you enjoyed most about being an Owner Manager with BOQ?
Positive outcomes for clients and staff are highlights.
In your experience, what are the top three challenges faced by someone starting a small business?
Never doubt that the competitors are top class. Creating awareness of brand and image from a Greenfields site is a huge challenge. Maintaining sufficient capital is critical.
Thinking about your business, what do you see as your greatest asset and why?
My staff are the key to the business and my ability to run the business.
Who are the trusted advisors on your bench?
I have several BOQ OMBs that I continue to liaise closely with and 2-3 lifelong friends who are sound business exponents.
What is your favourite book / quote. Can you share why this resonates with you?
It seems many of the books I read are about resilience and perseverance. A book titled "The Boys in the Boat" about the United States Men's Olympic rowing crew of 1936, is a great example.
What is the best thing about running your own small business?
Great reward for effort when all going well. This is in terms of dealings with clients, staff and the community also.
Describe what the future looks like for you?
I would like to take the business to the next level in terms of size and output. This would most likely require additional staff for business development and processing.
"Congratulations Don on your achievement, we wish you every future success" – Glen Goldspink
Get in touch with BOQ Hobart for all your banking needs, or click here for more information on becoming a BOQ Franchisee.