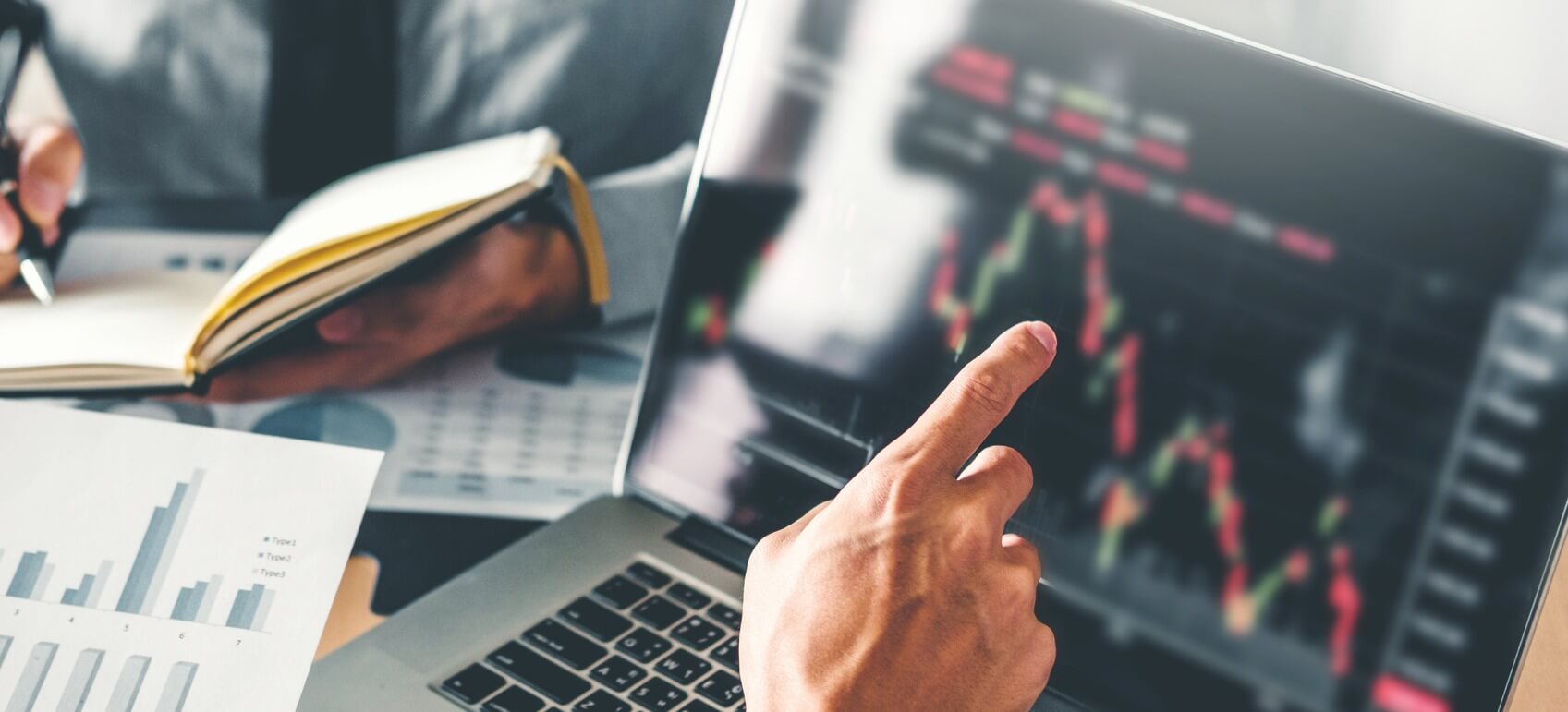 Economic and Financial Market Update: Moving On Up
Summary:
• The CPI numbers rose 1.7% over the year to September, broadly in line with expectations;
• Inflation remains below the RBA's 2-3% target;
• There are signs that the decline of inflation has stabilized;
• But that is unlikely to be sustained without an improvement in economic growth.
'Moving on up
Nothing can stop me'
Moving on up, M People
The inflation data is always important. It is the benchmark that the RBA uses when setting interest rates. It gives a signal about the strength of the economy. It is an important element in consumers' standard of living. And it is used in setting the level of various prices, wages and government benefits.
Over the past five years a worry has been that the CPI numbers have been consistently lower than the RBA's inflation target. The most recent data continued that trend. The 'headline' figure was broadly in line with market expectations. But it has now been below 2% for 18 of the past 20 quarters. The RBA's preferred measure of 'underlying' inflation is declining in annual terms.
But there is good news. Over the past couple of quarters it looks like that the decline in both the headline and underlying measures has stabilized. A similar story is told from other CPI measures. Non-tradeable and service-sector inflation (measures largely impacted by the strength of the domestic economy) no longer look to be slowing. There has been a trend rise of both tradeable and goods inflation over recent quarters.
Headline CPI
(over the year % change)

Underlying Inflation
(average of median and trimmed mean, annual % change)


Tradeable And Non-Tradeable Inflation
(annual % change)
Annual % Change Inflation
(excluding volatile items)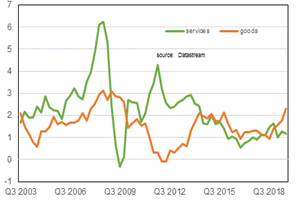 One of the reasons for the stabilization of domestic inflation is global developments. Underlying inflation in the OECD has been above 2% for the past 18 months. Over the same time the $A has declined by about 15% (against $US). Combined, this has led to a rise of import prices and led to an increase in the prices of traded goods.
The risk is that this 'imported inflation' could be unwound in the future. Over the past couple of months there have been signs that the $A might be bottoming out at around 67-69c. And slowing global growth means global inflation could weaken again. Financial markets clearly think so with inflation expectations very low across most countries. Consumer and business price expectations in the US are low.
OECD Core CPI
(annual % change, monthly)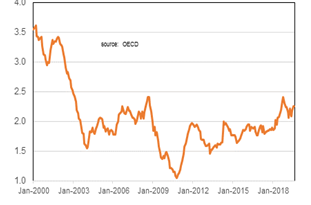 Import Price Index
(annual % change)


US Financial Market Inflation Expectations
University Of Michigan Long-Term US Consumer Inflation Expectations

Domestic factors have also helped stabilize inflation. Producer prices are low, below the growth typically seen pre-GFC. But unit labour costs have been rising (driven more by declining productivity growth than rising wages). Firms indicate that overheads are around their long-term average level. With a slowing economy impacting volumes and worried about competition firms so far have absorbed a fair portion of the increase in costs within margins. But there is only so far firms can reduce margins. At some point unless growth begins to improve firms will either have to cut costs or increase prices.
Producer Price Index
Unit Labour Costs
(annual % change)

Company Profit Margins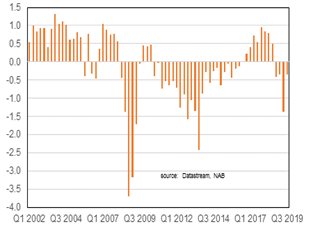 Firms' View On Overheads


Modest price growth has been most marked in industries associated with consumer spending (retail and recreation). Weaker activity has led to falling prices in construction. Service sector firms indicate that price rises remain difficult to achieve. Consumers believe that inflation will remain low for an extended period.
Proportion Of Items Outside RBA Inflation Target Band


Price Changes By Industry
(2 quarter average change)

Service Sector Price Index
(3 month average)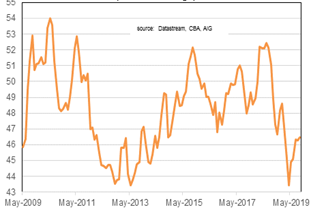 Consumer Inflation Expectations
(3 month average, weighted mean)

There are signs that the decline of inflation in Australia has stabilized. The proportion of items in the CPI basket rising by under 2% (including items where prices fell) is declining while the proportion of items rising by more than 3% is increasing. Rising import prices and higher unit labour costs have played a role.
But unless the economy picks up the risk is that inflation will again moderate. At a minimum it will struggle to get back above 2%. Financial markets are currently pricing that inflation will remain around its current level for some time to come. And this takes into account investors' view that another rate will be required. Even lower rates still may not be enough to meet the M People's demand to get the economy to move on up.
We live in interesting times!
Peter Munckton - Chief Economist