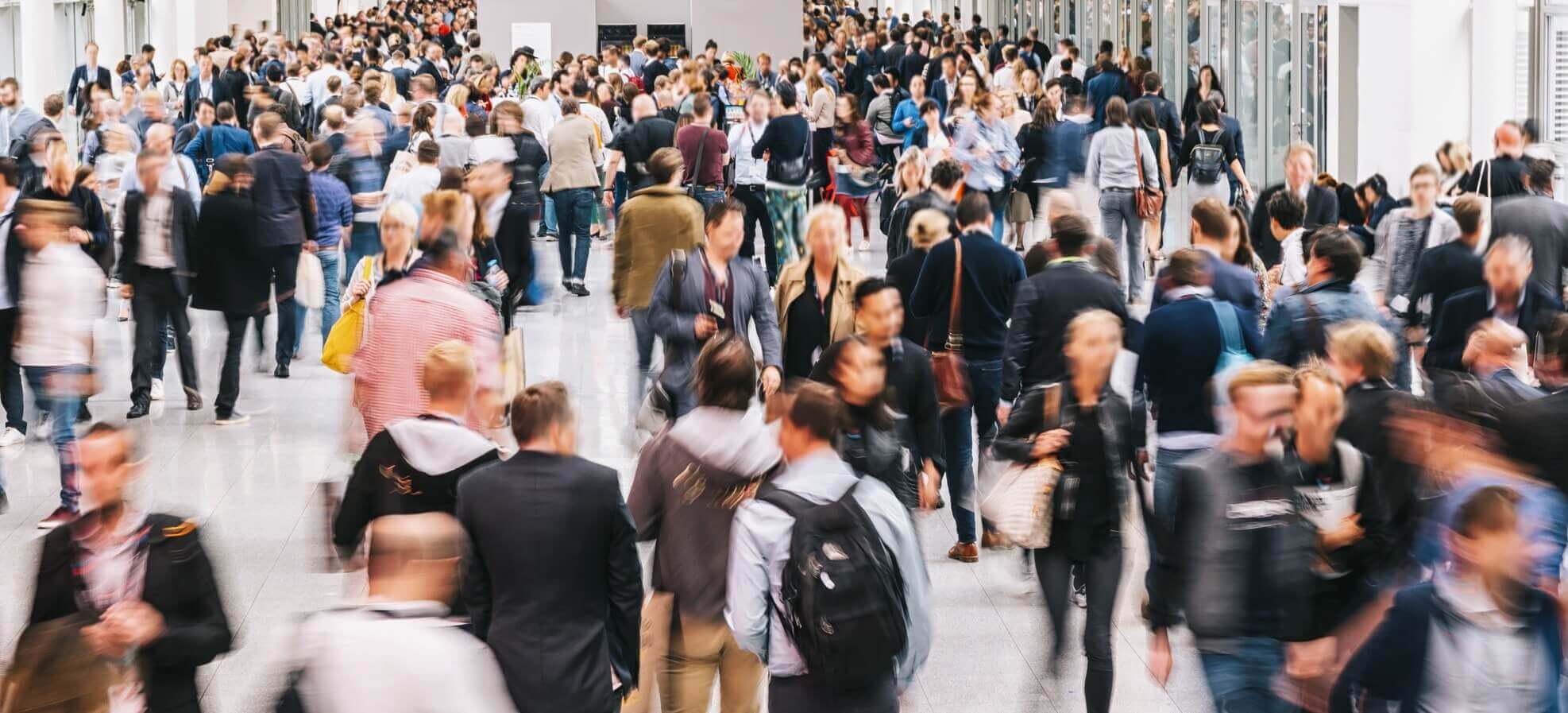 Economic and Financial Market Update: The People Story
Summary:
• Negative economic and financial news is attracting the headlines;
• There are reasons for caution;
• But there are also reasons to be positive;
• One long-term positive for the economy has been population growth;
• And stronger population growth looks likely to continue to be an economic driving force .
'The people, the people, the people'
'Change the way you live now'
The Music
Watching the news it is easy to feel pessimistic about the world. If it is not the Trade Dispute, there is Brexit. There are political worries in Italy and Argentina, protests in Hong Kong and Moscow. All the while the global economy is slowing. Concerns have been focussed upon China, although Germany might be an even bigger worry. Volatility has returned to financial markets, interest rates have fallen to eye-bulging lows. By global standards, the current state of domestic politics is an oasis of calm. But momentum in the domestic economy is below-par. Household incomes are too low. The downturn in residential construction is gathering pace. Some slowing in jobs growth is likely (although you would not know it from the July employment numbers).
At times like these it is easy to overlook the positives. And there are some. Interest rates are very low (and financial markets are pricing further falls). Income taxes have been cut to the workers most likely to spend. The exchange rate is weak and is helping to build trade surpluses. The number of hard hats being used on infrastructure projects is high. Miners capex spending is likely to rise. There are more dollars to be spent on the NDIS. And it looks increasingly clear that house prices have stabilized (notably in Sydney and Melbourne).
The other positive for the Australian economy is population growth. A growing population has meant higher demand for goods and services (including housing and infrastructure). A bigger domestic population has created a larger domestic market allowing the economy to be less vulnerable to swings in the global economic and financial markets. But more workers has meant more competition for jobs. And more people has led to crowding on roads and in schools.
Strong population growth has been a feature of Australia's economy over the past decade. Part of the rise in population is due to natural increase (the number of births over deaths). But the most marked feature has been a substantial jump in immigration. Permanent immigration has played a part. But so has the big rise of international student numbers. The result has been an increase in the proportion of the population born overseas.
Components Of Population Increase
(4 quarter sum, 000's)

Proportion Of Foreign-Born In Total Population

While the absolute increase in the number of people over recent years has been large, the percentage increase has been less dramatic. The 2018 growth rate (of around 1.5%) was broadly equivalent to the long-run annual average increase. And while this was a step-up from the rate of growth seen through the 1990s, it was well below the growth rates seen in the couple of decades after World War Two and in the years immediately before and after World War One.
While Australia's population growth is not unusually strong by historical standards it is high by international benchmarks. Australia had the third fastest rate of annual population growth amongst OECD (and other selected) countries between 2011-16. Other countries that experienced 1%-plus average growth rates over that time included New Zealand, Canada, Norway and Switzerland. Population growth in most other European countries (including the UK) and the US was less than 1%. Population actually fell in nine countries.
Australia's Long-Term Population Growth
(annual % change)
Annual % Change Population Growth
(2011-16, OECD and selected countries)

The origin of immigrants has changed over time. In the mid 1990s, five of the top seven countries were European, with New Zealand and Vietnam the other two. More recent figures indicate that more people are coming from Asia, with China and India leading the way. South Africa is also now a big source of immigration.

The country of origin of immigrants has changed over time
Country

1996

(000's)

Country

2018

(000's)

England

957

England

992

New Zealand

312

China

651

Italy

250

India

592

Vietnam

159

New Zealand

568

Scotland

150

Philippines

278

Greece

138

Vietnam

256

Germany

122

South Africa

189

China

119

Italy

187

Philippines

105

Malaysia

174

Netherlands

96

Scotland

135
In recent years around two-thirds of immigrants have settled in the two major states, NSW and Victoria (and mainly Sydney and Melbourne). Immigrant numbers are currently near a record high in Tasmania but below its peaks in the mining states (Queensland, WA and South Australia). Natural increase in population is near a record high in NSW and Victoria, but has been trending down in the other states.
Cost (and quality) of living has been an important reason why Queensland has traditionally been a beneficiary of inter-state migration and NSW a loser. The state of the jobs market is the other important reason people move states. It is why historically people have left South Australia and Tasmania (although that has started to change as those state economies have improved). WA's stronger economy has usually attracted numbers from interstate, although that changed post the mining boom (although less people are now leaving as economic growth has stabilized). Victoria lost people to interstate during the weak economic times of the 1990s but are now gaining people attracted by stronger job opportunities.
Composition Of NSW Population Growth
(4 quarter sum)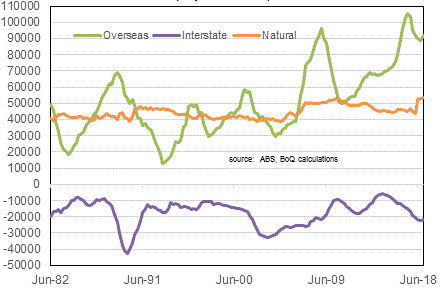 Composition Of VIC Population Growth
(4 quarter sum)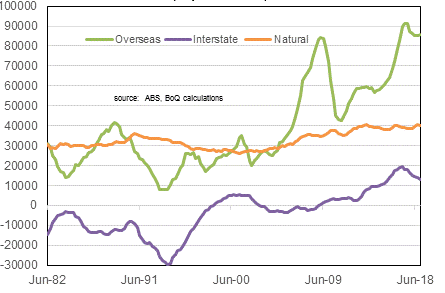 Composition Of QLD Population Growth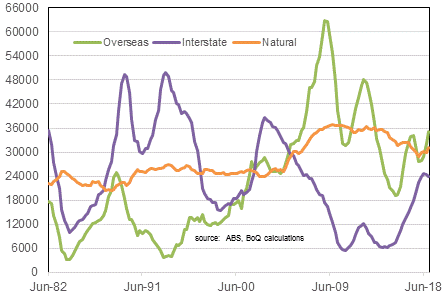 Composition Of WA Population Growth
(4 quarter sum)
Composition Of SA Population Growth
Composition Of TAS Population Growth
Population growth over recent years has been particularly strong in the major urban centres. Around 60% of the population live in the four major cities (Sydney, Melbourne, Brisbane and Perth), and about 30% in smaller and regional cities. According to Infrastructure Australia, in 2016 around 10% lived in towns of less than 10,000 people (with 88 town of 5000-9999 people, 526 towns of 1000-4999 and 1088 towns with less than 1000 people).
With the exception of Mackay, all of the 40 largest urban centres have gained people over the past five years. Strongest growth has been in Melbourne and the surrounding areas, although there has also been significant growth in Sydney and South East Queensland. Slowest population growth has been in regional Queensland cities that have been impacted by the end of the mining boom (although that followed a period of strong population growth).
Average Annual % Change Population In Major Urban Centres
(2013-18)
Current projections expect population growth to stay relatively strong over coming decades. Much of that population is expected to reside in the four largest cities. Whether that occurs will depend upon how the economy evolves and what infrastructure is supplied and where. And as with anything in economics, forecasts (or projections) can be wrong. The projections conducted in both 1997 and 2002 notably underestimated the extent of the population growth boom over recent years making things tough for the town planners. The 1997 (middle-scenario) projection did not have Australia's current population occur until the 2040's!
Projected Population Growth
(greater capital city regions, 000's)
Australia's Population Projections
(middle scenario, 000's)

But if the population forecasts prove correct the major Australian cities will both continue to grow and change. By global standards Australian cities are not very densely populated. This has started to change, and will almost certainly continue to do so. The greater density of the major cities (and the related cost of living pressures) will make smaller cities and urban centres a more attractive option. The surprisingly strong population growth of recent years has put a strain on infrastructure (and led to Australia slipping down various global infrastructure rankings). The current infrastructure investment boom is making up for historical underinvestment. But the demand for infrastructure will remain strong if the population does grow anywhere near the projections.
Population Density
(people per sq km)

Australia Global Infrastructure Ranking

As the band, "The Music" highlighted People (or more accurately, the number of people) are changing the way we live. If the forecasters are right the Australian economy of the future will contain even more people. This will have benefits for economic growth. It will also mean tough choices about what and where the infrastructure of the future will be needed. And it will also mean more changes to lifestyles (particularly for urban-dwellers) are on the way.
We live in interesting times!
Peter Munckton - Chief Economist