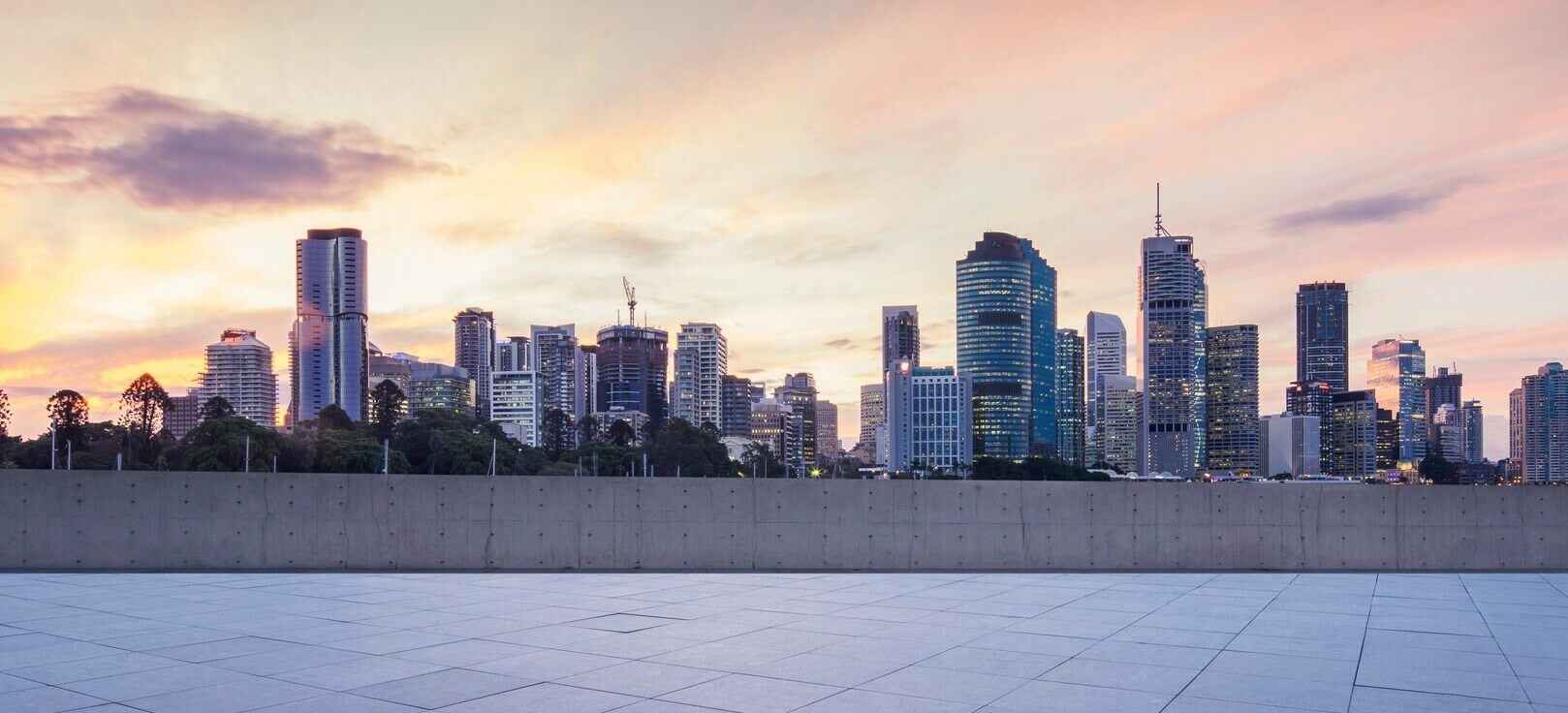 Economic and Financial Market Update: The State Of Play
Summary:
• Economic momentum has slowed across states over the past year;
• Some states (notably Tasmania) are doing better than others;
• And most states are in need of stronger economic growth for longer;
• Lower interest rates and a fiscal boost would be helpful across regions.
'No cricket team in the world depends upon one or two players.'
Virat Kohli
Indian cricket captain
I have always been a big cricket fan, although I recognize that there is a large number of people that will agree with Robin Williams ('Cricket is basically baseball on Valium'). Cricket is an interesting game in that the two most important tasks (batting and bowling) are essentially individual tasks done within a team game. I suppose all team sports are about how individual performance combine to achieve a team outcome. And that is the same in economics: the performance of the national economy reflects the performance of the individual state economies.
There are a myriad of statistics that provide coaches and supporters with an idea of how players are performing. In cricket it has historically been about runs and wickets, although the data is getting more sophisticated. In the AFL there are literally hundreds of statistical categories for measuring player performance. There may well be hundreds of pieces data that can judge the performance of State economies. But as in sport, there are typically a few key numbers that best sum up the performance of a state economy. Below are some of those key indicators, and a commentary on what they tell us to how the states are performing.
Total domestic spending
A key indicator is the amount of spending done in a state economy (total state economic growth that includes net exports is only released annually). Spending has slowed across states over the past year after being relatively strong (apart from in WA) this time last year. Tasmania is still doing pretty well. Victoria and NSW are next in line although feeling the pinch from the residential construction downturn. At first glance the spending numbers in WA are disappointing after it looked like the worst of the downturn was over (the decline reflected a significant decline in housing and business capex spending).
But there is a reason why coaches look at a range of indicators: no one indicator tells the complete story. A sense check to the spending numbers is to ask firms about what they think about business conditions. Mainly they confirm the demand data. In all states (bar Tasmania) firms say things have deteriorated over the past year. Tasmania is still doing well, SA and Queensland less so. WA firms say things are better than what the demand numbers suggest.
State Domestic Demand
(year to % change, two quarter average)

Business Sentiment
(two quarter average)

Retail sales
A regularly released indicator is retail sales. And the sales numbers tell a different story to the demand data. Sales are strongest in Queensland (surprise) and Victoria (less of a surprise) and softest in NSW (where the impact of weaker housing sector is hitting household good and furniture store sales). The numbers tell a more encouraging story about the WA consumer, although suggest that Tasmanian consumers are becoming more cautious.
Another measure of how the consumer is feeling is to take a look at how easily their dollars are flowing into restaurants and cafe tills. After all 'going out' is one of the first things that stops when household budgets get tight. These numbers say that the Tasmanian consumer is doing well, and indicate that consumers are happy to buy coffees in WA and Queensland. The data suggests consumers are more cautious in South Australia, and increasingly so in NSW.
Retail Sales
(annual % change, 3 month average)

Spending On Cafes/Restaurants/Takeaway Food
(annual % change to July 2019)
Unemployment rate
For economic data this is the 'where the rubber hits the road' category. Unemployment rates will typically be the lowest in states that have had the strongest economic growth for the longest. No surprise then that NSW and Victoria stand out given their extended run of very strong economic growth. Long-term economic underperformance is why the unemployment rate in South Australia is higher. Areas of Queensland have also struggled, although the good news is that some of those regions (such as Cairns and Townsville) are coming good.
While the unemployment rate (rightly) gets the headlines, other employment indicators matter. Jobs growth has remained strong in NSW and Victoria, although slowed in the other states. Only in NSW has the participation rate gone up over the past couple of years. It has declined a little in the other states (with the exception of Victoria where it has been broadly flat).
Firm employment intentions have declined notably across states over the past year. The exception is Tasmania, underlining the current strength of that economy. The good news is that employment intentions are rising in WA, another indication that the economy is doing a bit better than the 'headline' spending numbers suggest.
State Unemployment Rate
(3 month average)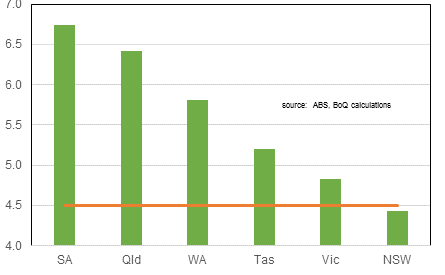 Expected Firm Employment Intentions
(2 quarter average)

Population growth
Strong population growth typically goes hand-in-hand with a strong economy. People like living in places where they can get a good job. But it can also say something about lifestyle (weather, amenities and housing affordability). Over the year to March 2019 population growth was strongest in the three major Eastern States. But this has started to change, with growth starting to slow in NSW and Victoria but rising in other states (bar the NT). This change reflects the slowing of the NSW and Victorian economies (and the higher level of their house prices).
The part of population growth that is most sensitive to the domestic economic cycle is inter-state migration (although lifestyle decisions are also important). Over the past year Queensland and Tasmania has topped the inter-state migration list. Victoria also attracts people from other states. People have left NSW, SA and WA. But as with the wider population numbers, things are changing. The strong Tasmanian economy is attracting more people. And less people are leaving WA and SA suggesting people are starting to feel a bit better about what those economies are having to offer.
Population Growth
(annual % change)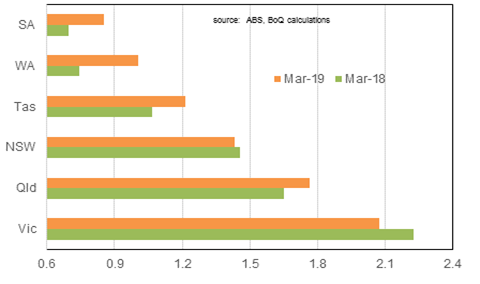 Net Interstate Arrivals
(% of state population)

House prices
According to CoreLogic numbers, house prices have declined across all major cities over the year to August. But there are clear signs that the decline in house prices is over in Sydney and Melbourne, although that is less clear in the other major cities. The fall of mortgage rates and the (modest to date) easing of lending standards should be a plus for housing prices across all markets. High supply will keep a lid on prices (notably for units in Sydney, Melbourne and Brisbane). A substantial ongoing rise in house prices will require a stronger economy and ongoing population growth.
Another sign that things are improving is that households in all states think that now is a better time to buy a house than last year (although investors' remain cautious). WA is deemed to be the most attractive (high affordability), as well as Victoria and NSW (strong labour markets). The improvement over the past year has been least impressive in Queensland, perhaps reflecting that states higher unemployment rate.
House Prices
(annual % change)
Time To Buy A House
(6 month average)

Building approvals
Building approvals are currently falling sharply across all states, bar Tasmania. Even in Tasmania there are signs that approvals are peaking. There are signs though that approvals might be in the process of bottoming in WA.
One signal of the supply-demand balance in housing markets is the change in real rents (the annual percent change in rents after allowing for inflation). Markets where there is a shortage of supply will typically see rising rents (and vice versa). Rent increases have increased the strongest in Hobart over the past year, and declined most significantly in Perth.
Again things are changing. Rent increases over this year have got even larger in Hobart underlining the strength of the property market over recent years. That the decline of rents is slowing in Perth and Brisbane suggests that those housing markets are getting better balanced, and that their residential construction cycle might be getting closer to turning (assuming decent economic growth). The combination of falling real rents and plenty of supply to come (particularly units) suggests that the downturn in the residential construction cycle downturn in NSW has further to run.
Building Approvals
(annual % change of 12 month sum)
Real Rent Inflation
(% change over year)

As is often the case there are mixed economic signals. But the story looks to be that the Tasmanian economy is doing best and WA is starting to look better. NSW and Victoria are doing Ok, but have lost some momentum. This is also the case in South Australia and Queensland, two states with the highest unemployment rates and therefore in need of a sustained burst of strong growth.
With momentum down in most states this suggests the big problem is a team one (the need for lower interest rates and easier fiscal policy) and less with the performance of individual states. In sport, it is often the case that players perform better in a strong team. Similarly, state economies will typically do better in a strong national economy.
We live in interesting times!
Peter Munckton - Chief Economist