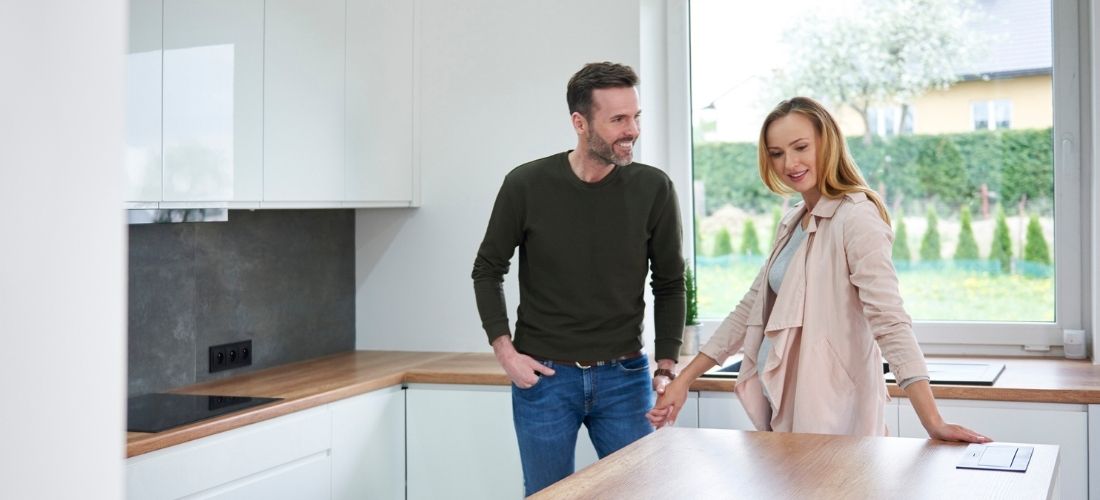 What to look for at an open inspection
When it comes to buying your first home, it's important you tick off all the important to-dos (such as deciding how much you can afford and obtaining a pre-approval) before getting stuck into the fun stuff aka visiting open homes.
While it's easy to get swept up in the excitement of it all, knowing what to look out for and what to avoid could be the difference between landing your dream home and getting stuck with a flop.
To help you on your way to first-home happiness, here's a comprehensive checklist of everything you need to look out for at an open inspection.
Inside the property
Once you've introduced yourself and made your intentions clear, the world is your oyster, or in this case, the house is yours to explore freely. Before envisioning where your new Scandi-inspired cabinet will go, it's important you thoroughly survey the interior space to ensure there are no costly problems in waiting.
Here are some things to check and to do when walking from room to room:
Damp spots: These are typically identified by dark or discoloured patches on the wall, damp and musty smells and excessive condensation on windows. Getting rid of damp is a costly and time consuming process - something you don't want on your hands after signing on the dotted line.
Water pressure: Turn on all taps (including those in a shower and bath) and flush toilets to check the home's water pressure. Slow or dripping faucets can be a sign of underlying pipe issues.
Electrics: Check that plug sockets are secure and safe, keep an eye out for chewed wires and ensure lights don't flicker when kept on. Faulty electrics is one of the most expensive problems to fix.
Flooring: Split, swollen or uneven floors are often a sign of deeper foundation issues. To check if the surface is level, take a marble with you and place it on the floor. If it rolls to one side, this may be a cause for concern.
Cracks: No matter the size, any type of crack on an interior wall is a major red flag. Cracks can be a sign of deeper underlying issues, such as rotten retaining walls.
Surface area: Knowing if your potential home has the capacity to fit your beloved furnishings in comfortably is important. Unless you are willing to part with possessions, ensure the property has the space you need.
Natural light: In a home, having ample natural light can increase productivity, happiness and health. If an open home appears dark, even with all the curtains and blinds open, you may struggle to improve the situation.
Outside the property
As well as conducting thorough checks inside the open home, ensuring the exterior is also up to scratch is just as important. When visiting your next open home, keep the following considerations in mind to help shape your decision:
Traffic: Is the property situated off a main road? Is it close to popular attractions that get busy at certain times? If so, you may find yourself either struggling to get out of your home or joining a long queue of traffic.
Parking permits: If you don't have any driveway parking it's important there's nearby parking available if you require it and you're aware of whether these spaces require specific permits.
Noisy neighbours: As many open home inspections take place during the day, it's sometimes hard to get a gauge on whether surrounding neighbours are noisy. Therefore, it's a great idea to swing by the area on a weekend or at night to see if anything changes.
Flooding: Check with the current owners or the council whether the property is located in a potential flood zone. Gaining insurance for homes in such areas is often hard to come by and expensive.
Nearby amenities: From schools to supermarkets, garages to transport stations, ensuring your first home is close enough to amenities you need can make all the difference.
Garage: Whether you require a garage for storage space or as an extra car parking area, if the property is without one, you'll have to be prepared to make other arrangements.
School zoning: If you have little ones or you're preparing to start a family, you might want to ensure your first home is in appropriate school zones for the schools you prefer.
Another part of the home-buying process is ensuring you have the financial assistance to enable you to sign on the dotted line for your dream home. The home loan experts at BOQ can work with you and your budget to see how much you're eligible to borrow and get you on your way to a great payment plan. For more information, why not pop into your nearest store today?