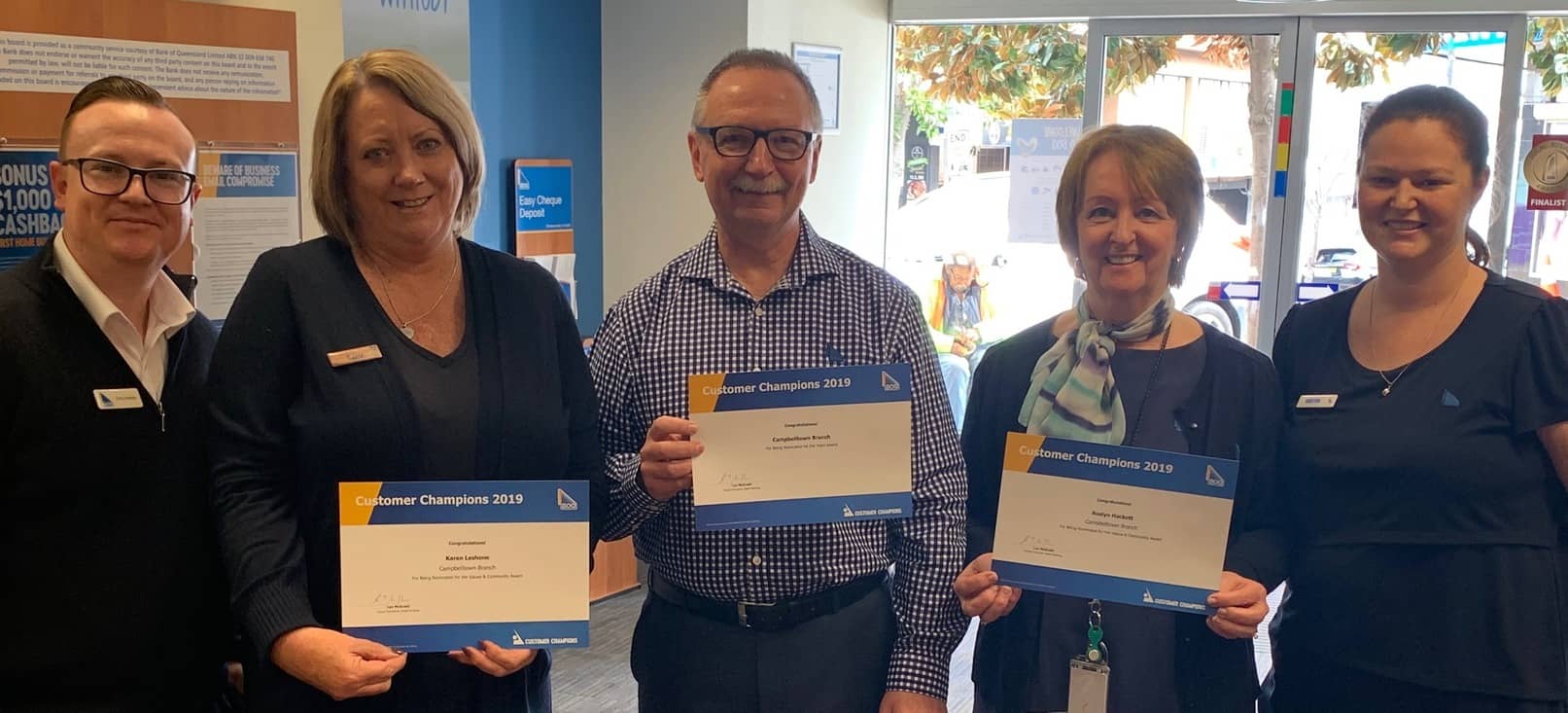 BOQ Campbelltown Celebrates 15 Years In The Community
As the saying goes, time flies when you're having fun – and this couldn't be more true than for BOQ Campbelltown, who this week clock an amazing 15 years in their local community! To celebrate, we sat down with current Owner-Manager, John Horosko, who took the reins to BOQ Campbelltown in 2013, to chat about his experience, and share some of his fond memories!
John, let's set the scene… Can you tell us a bit about yourself, your team, and your community?
Certainly! I've been in banking all my working life, with over 30 years financial services experience across my various roles. I'm extremely passionate about helping people and supporting the local community. Business at BOQ Campbelltown has certainly grown and evolved substantially over the last 15 years. I proudly took over as Owner-Manager in 2013, and it's become a true family business with my eldest son Chris now working in the business too. All my staff are considered family and I treat them that way too. I'm a big believer that happy, motivated staff are the key to a successful business, and to creating amazing customer experiences that keep people coming back time and time again!. One thing you might not know about me is that I am a Blues supporter in the NRL State of Origin series. It certainly gives people a good laugh when I tell them I own a BOQ (Bank of Queensland) Franchise!
So what makes your branch different to others in the local area? Why should customers choose you?
As I mentioned, the BOQ Campbelltown team are like family, and all our staff are proud to show up to work every day and help our customers. This level of dedication means we can deliver a high level of customer service and show our customers that we truly care about them and their needs, by building real, long-term relationships with them. One of the things I am most proud of is the awesome team work we have in the office. Our staff work hand in hand to help our customers each and every day. We're also fully mobile and available at a place and time that best suits our customers…. We like to say we have competitive products and services, provided with a personal BOQ Campbelltown touch!
What made you want to become an Owner-Manager at your branch?
I've always been incredibly passionate about the finance industry (as evidenced by the 30 years I've spent working in it!) When the BOQ Owner-Manager opportunity came my way , it just made sense, and was too good for me to pass up! At the end of the day, I wanted to create a business that supported the Macarthur and Wollongong Regions of South West Sydney, building an asset for not only myself but my family as well. It's a huge responsibility, but one I felt was right for me and my career. Drawing on both past successes and challenges, I believe I've been able to successfully create a business that provides a great learning experience for our staff, and provides outstanding support to the local community!
What is your favourite part about your local community?
There are so many things to love about our local area. The food, the drinks, the activities, the people, the families, the local sports groups, the charities – I could keep going! There is such a sense of community and togetherness in the neighbourhood, and myself and the entire BOQ Campbelltown team are so proud to be heavily involved in a number of different areas. Just a few include participation in the local networking groups and Chamber of Commerce, as well as sponsorships of Leumeah Public School, Harlequin's Rugby Union club, Campbelltown Bowling Club, Macarthur Disability Services and Camden Tigers Women's M League Soccer Team.
What is the highlight of your time as Owner-Manager at BOQ Campbelltown?
There are so many, it's honestly difficult to choose! On a professional level, a stand out moment has to be winning National Branch of the Year in 2016 in our Tier. It's not all about the accolades, but seeing yours (and your teams) hard work and dedication be recognized like that is truly a privilege. On a more personal/community level, our ongoing annual sponsorship of Macarthur Disability Services Annual Ball brings us all great pride. Seeing all their clients' happy faces makes it so worthwhile!
What is one must see/do/eat/drink destination in your local community?
All of our local cafes are outstanding – and so are the business owners who run them! However a few that hold a special place in my heart (and stomach!) are Bar Centrale, Yannis and Alkalizer on Queen Street and Upstairs at Fred's at Camden. And can't forget to grab a pie at Willis cake shop on Queen Street either!
What are you looking forward to in the coming years?
I see a bright future for the ever growing Macarthur Region. I'm excited to keep growing BOQ Campbelltown alongside our local community, supporting our friends, family, colleagues and customers with truly personal service and a great product offering along the way!