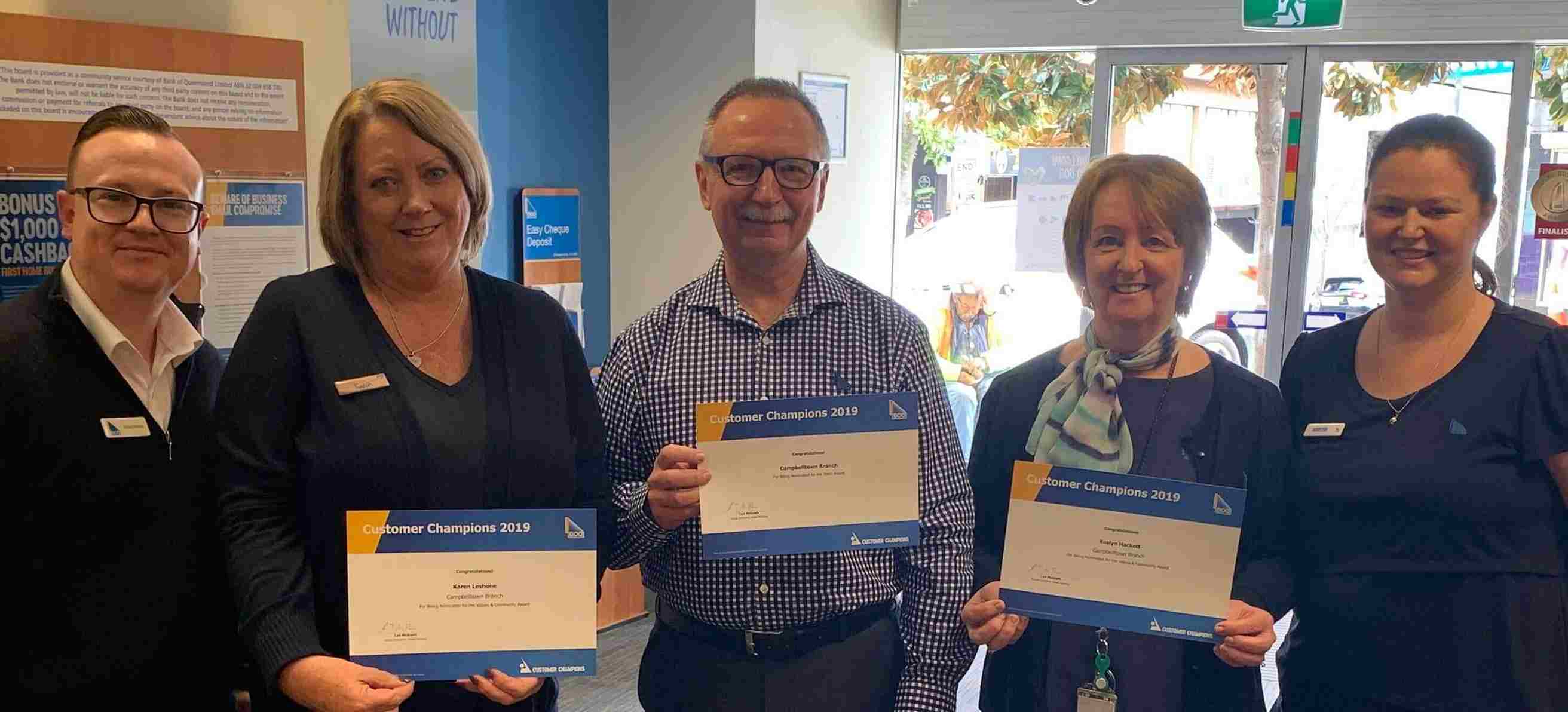 BOQ Celebrates National Family Business Day
National Family Business Day is held annually on 19 September. The day is dedicated to acknowledging the invaluable contribution family businesses make to Australia's economy, communities and culture. Learn more about four of BOQ's family owned and operated branches, as the teams share what they enjoy most about working and achieving together.
BOQ Launceston
BOQ Launceston Owner Manager, Tony Barnard, proudly works alongside five of his family members – Dani, Will, Steph, Jack and Fabienne. Asked what he enjoys most about working with family, Tony said, "One of the things we enjoy most about working together is the fact that we are all on the same page in our desire to want each other to succeed and to see the goals and visions for the business come to fruition."

BOQ Parramatta
Owner Managers at BOQ Parramatta, Diana Brecely and Graham O'Kell, work with their son Jeffrey and daughter Madeline. This year they have supported The Great Walk Foundation and Parramatta Chamber of Commerce Charity Golf Day, raising funds for the aeromedical charity, CareFlight. On the benefits of working with family, Diana said, "There's an added confidence working with family, sharing life goals beyond career and work." Take a look at the entire team below at their morning tea in August, marking 15 years together at BOQ.

BOQ Mackay City
At BOQ Mackay City, Owner Manager Melissa Green works alongside her husband, Jason, and sister, Rebecca. This year, the team raised $12,000 for the Mackay Hospital Foundation and the Mackay Community Foundation at their annual Charity Golf Day, in addition to supporting a number of initiatives in the local community. Melissa says trust is a valuable part of working with family: "As a business owner I know we often feel that we cannot be in two places at once, however with family working alongside you, you almost achieve that."

BOQ Campbelltown
At BOQ Campbelltown, Owner Manager John Horosko works with his son, Chris, but considers all of his team extended family. Earlier this year, the team was recognised with three H2 Customer Champion nominations, including a Team Award which acknowledges branches demonstrating outstanding team achievements. Take a look at John and the team after receiving the acknowledgment below.