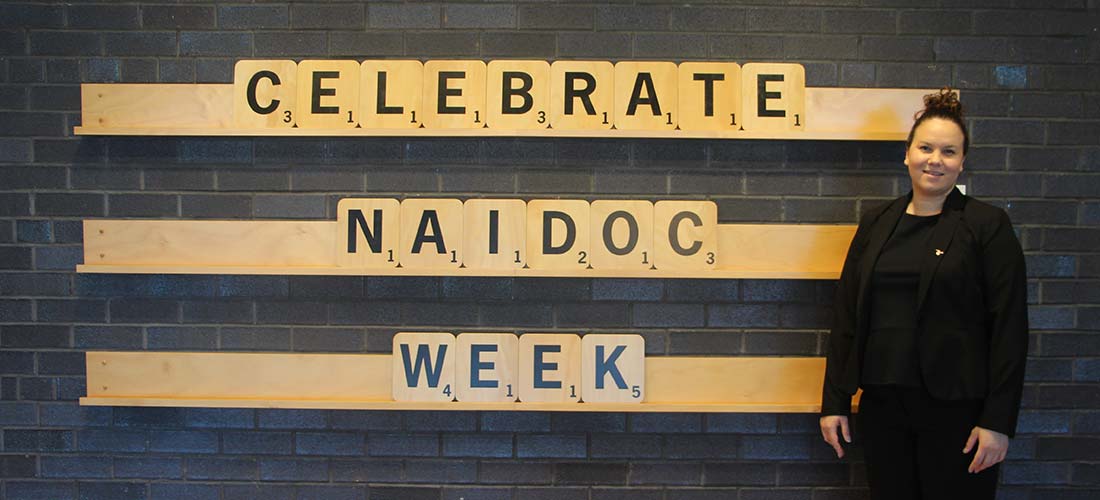 Meet Rebecca: A CareerTrackers Winter Intern at BOQ
CareerTrackers is a national non-profit that creates multi-year, paid internship opportunities within corporate Australia for Indigenous university students. The aim of the program is to convert interns into full-time employees upon the completion of their tertiary study within their interning company.
BOQ first partnered with CareerTrackers in 2016 with two interns, since then BOQ has grown to support a total of ten interns across different business units in both Brisbane and Sydney.
In mid-June, BOQ again partnered with CareerTrackers for the winter internship program with 10 interns joining the Brisbane and Sydney offices.
We chatted to one of the interns, Rebecca Freckingham, a Bachelor of LAWS student at Deakin University, who joined the BOQ Group Risk and Compliance team in the Brisbane head-office.
Tell us a bit about you.
My name is Rebecca, my family is a part of the stolen generation in which my Great Grandmother was placed in Wakka Wakka (Cherbourg). I have completed many certificates leading up to my University Degree such as a Certificate 3 in Business Admin, a Certificate 4 in Government Investigations & a Certificate 4 in Justice. I started my career journey in 2015 as a Trainee at Department of Justice and Consumer Affairs Victoria which was provided by Neca Education & Careers where I then went onto winning Trainee of the year for the state of Victoria in 2016.
What are you studying and where?
I am studying a Bachelor of LAWS at Deakin University at the Institute of Koori Education in Geelong Victoria. It is great for Indigenous people like myself who live in small regional towns as I returned home from Melbourne to support my family through my Dad's Cancer. The Institute of Koori Education arranges our flights for us to return back to campus to complete weekly intensives held throughout the year. And in between we get to spend our time still being connected to our community whilst completing our degree.
When did you start your internship with BOQ?
I started preparing for my interview with Career Trackers weeks before I started my internship with BOQ, they were great in helping me develop my confidence and preparing me for some of the questions that might be asked and how to answer them. My first day as an intern with Bank of Queensland was on the 18th of June this year after the completion of my exams.
What are your long term goals for the future?
My long term goals for the future when I finish my degree is to gain a position as an in-house lawyer, where I can apply my skills developed from my law degree by interpreting legislation and providing legal advice to various functions of BOQ. Throughout my career I would also like to get a feel of working in a law firm as a practicing lawyer to get a feel of the various job opportunities that can be undertaken as a lawyer and to get the most out of my Law Degree as I am always hungry for knowledge and learning.
What have you enjoyed the most during your time at BOQ?
I have really enjoyed feeling apart of the Group Risk and Compliance team, coming to work every day makes me feel welcomed and supported. I have built positive relationships with the members of my team and other colleagues in other areas of BOQ.
Can you tell us one learning or take away from your internship that you will use moving forward?
One of the most valuable learning experiences that I will take away and utilise in my Law Degree is the improvement of my ability in interpreting legislation into the plain meaning and then applying it to the obligations of BOQ in group risk and compliance.
What has been your internship highlight?
My internship highlight has been getting a BOQ identification tag, laptop, email, work station and completing the required BOQ group risk and compliance modules. It has really made me feel like a valuable member of BOQ.
What has been your personal highlight?
My personal highlight has been meeting some great people, who support me and my goals and always inspire me to achieve my best and knowing that I will be able to keep connected whilst during my study period.
What's next for you?
After the completion of my Winter Internship, I will be celebrating NAIDOC in Bundaberg and attending the Bundaberg NAIDOC Gala Ball. I am excited to be attending the ball with the support of my partner and my family as this year I have also been nominated for Inspirational Woman of the year and Scholar of the Year.
Thanks for chatting to us Rebecca, we absolutely loved having you at BOQ as part of the Careertrackers winter internship and we wish you the best for the future.